---

Product Description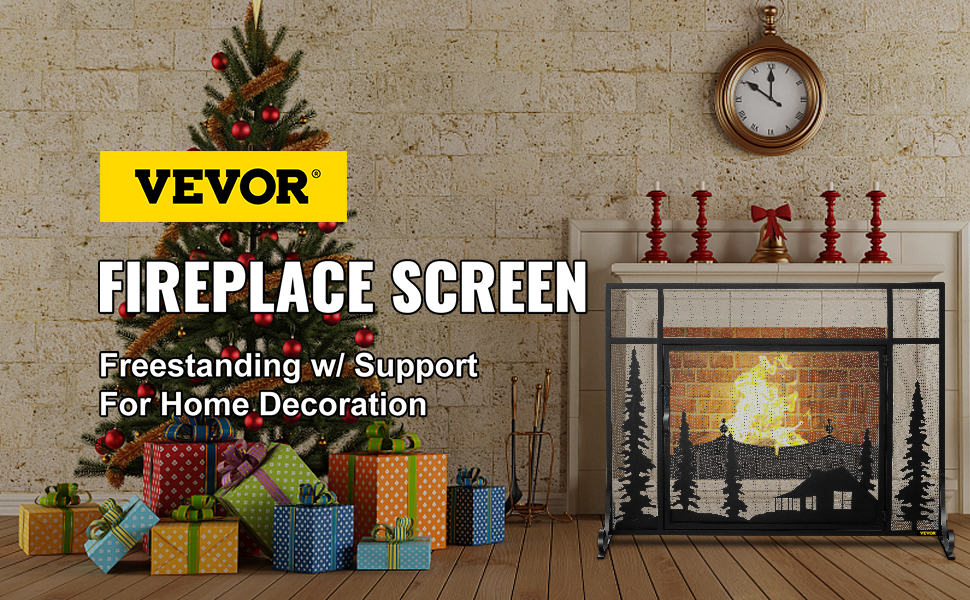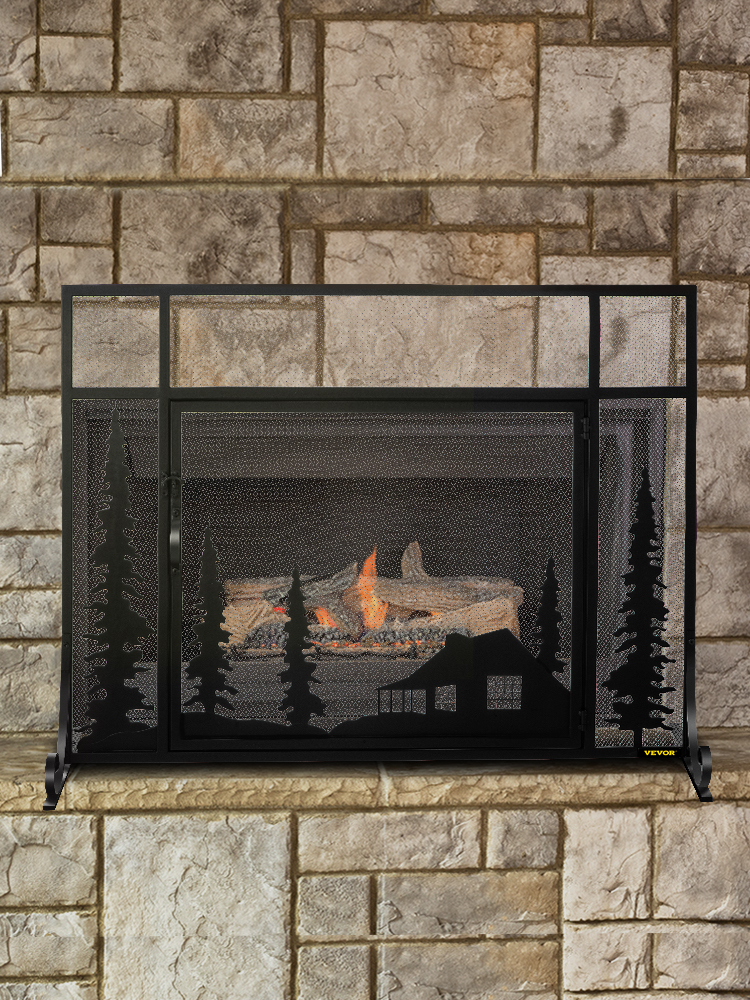 Guard Fireplace Screen
This fireplace screen is suitable to be placed in front of the fireplace or candlestick to block the flying sparks and ashes. At the same time, it can give people a feeling of home. The solid material and support ensure stable use, double door design and additional accessories provide convenience. Its decorative pastoral pattern creates an inviting atmosphere in your home, so bring it home today.
Excellent Fireplace Screen
Large & Security Guard
Easy to Set-up & Use
Complete Accessories
A Decoration for Home
Tough Equipment & Tools, Pay Less
VEVOR is a leading brand that specializes in equipment and tools. Along with thousands of motivated employees, VEVOR is dedicated to providing our customers with tough equipment & tools at incredibly low prices. Today, VEVOR's products are sold in more than 200 countries and regions with 10 million plus members worldwide.
Why Choose VEVOR?
Premium Tough Quality
Incredibly Low Prices
Fast & Secure Delivery
30-Day Free Returns
24/7 Attentive Service
Key Features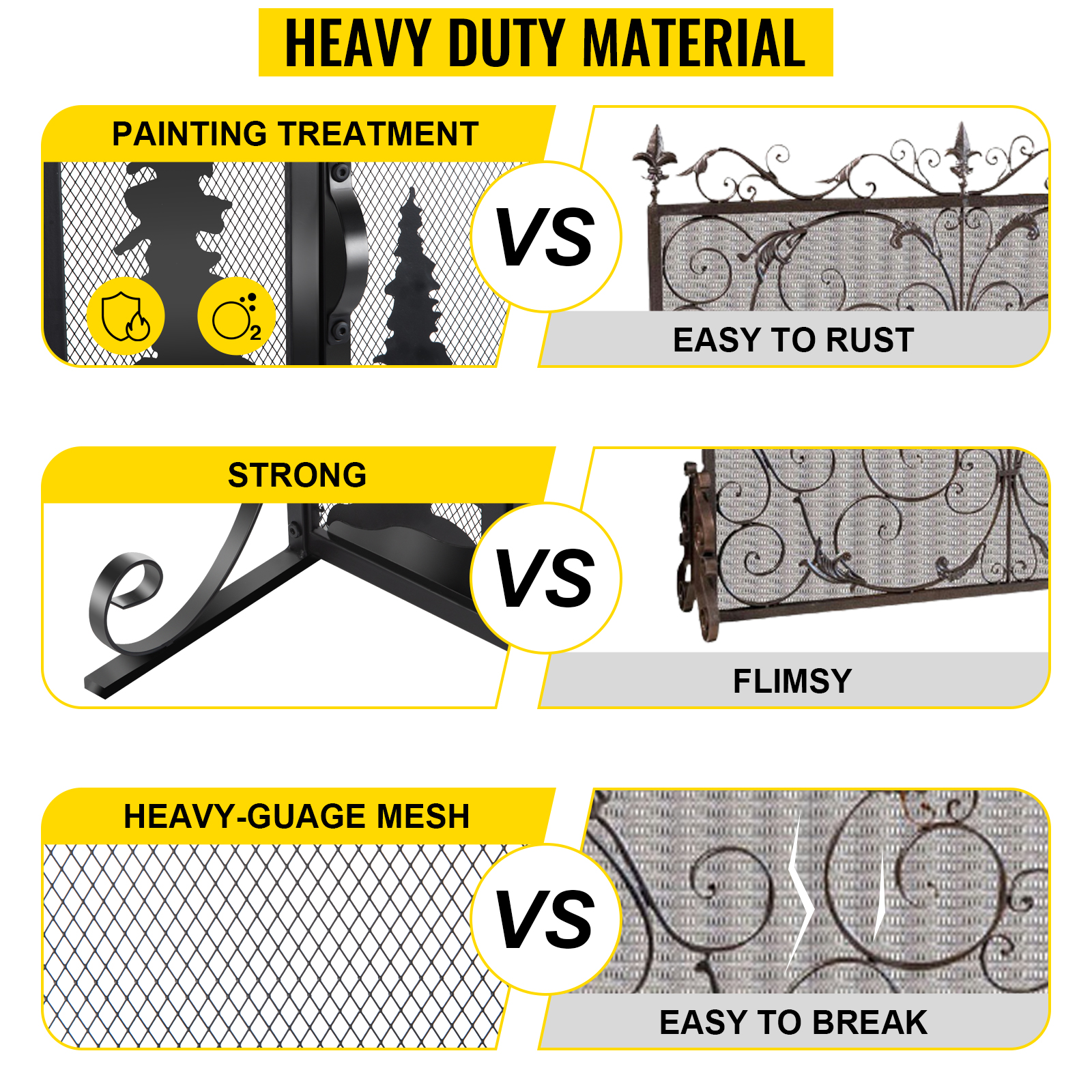 Durable Material
The hard iron plate, high temperature-proof paint, firm welding, and vertical feet make the screen more stable and less prone to tiling, ensuring long-term use.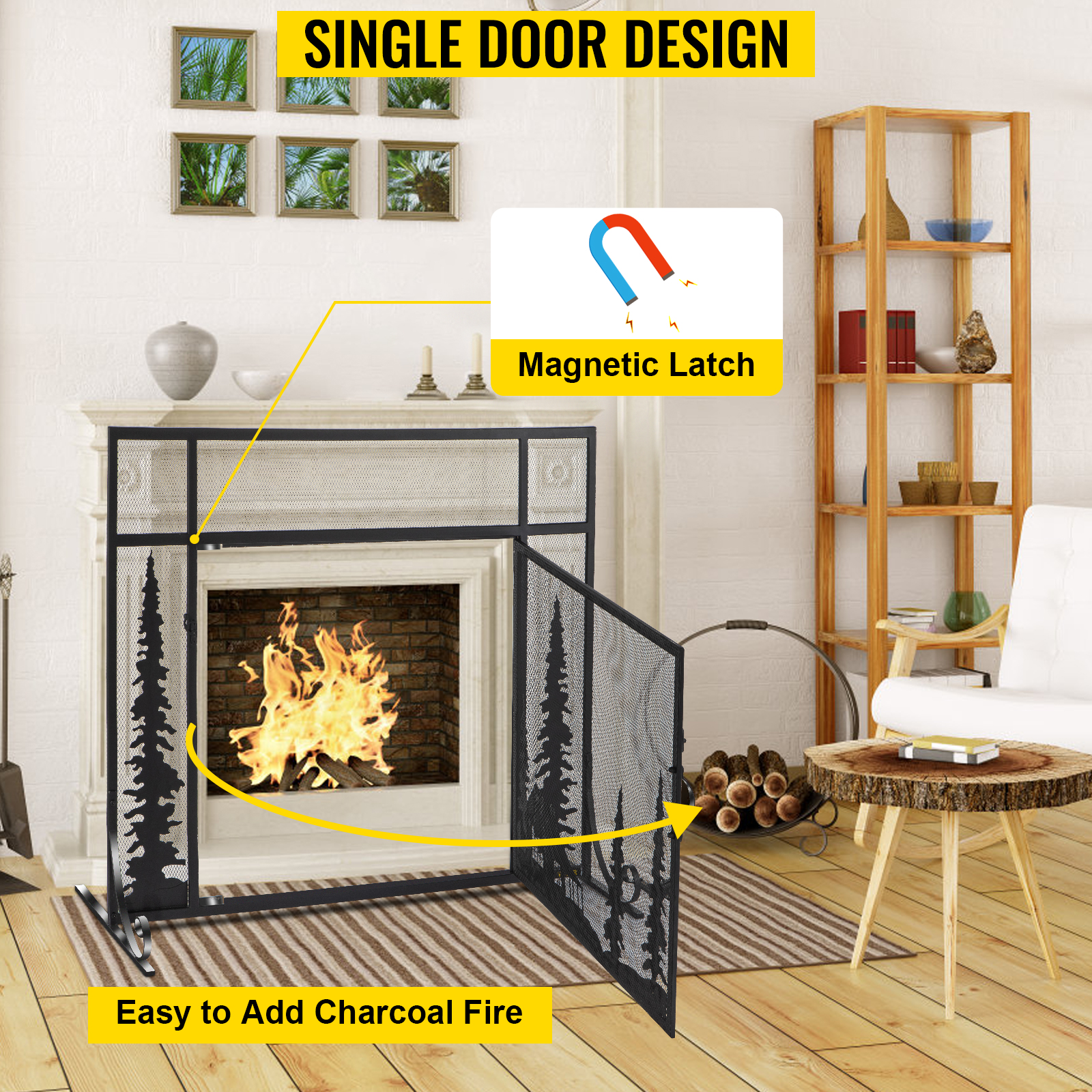 Single Door Design
The hinged door improves convenience - there is no need to move the fireplace screen back and forth in a burning flame. The arch has a handle and is secured shut by a magnetic latch.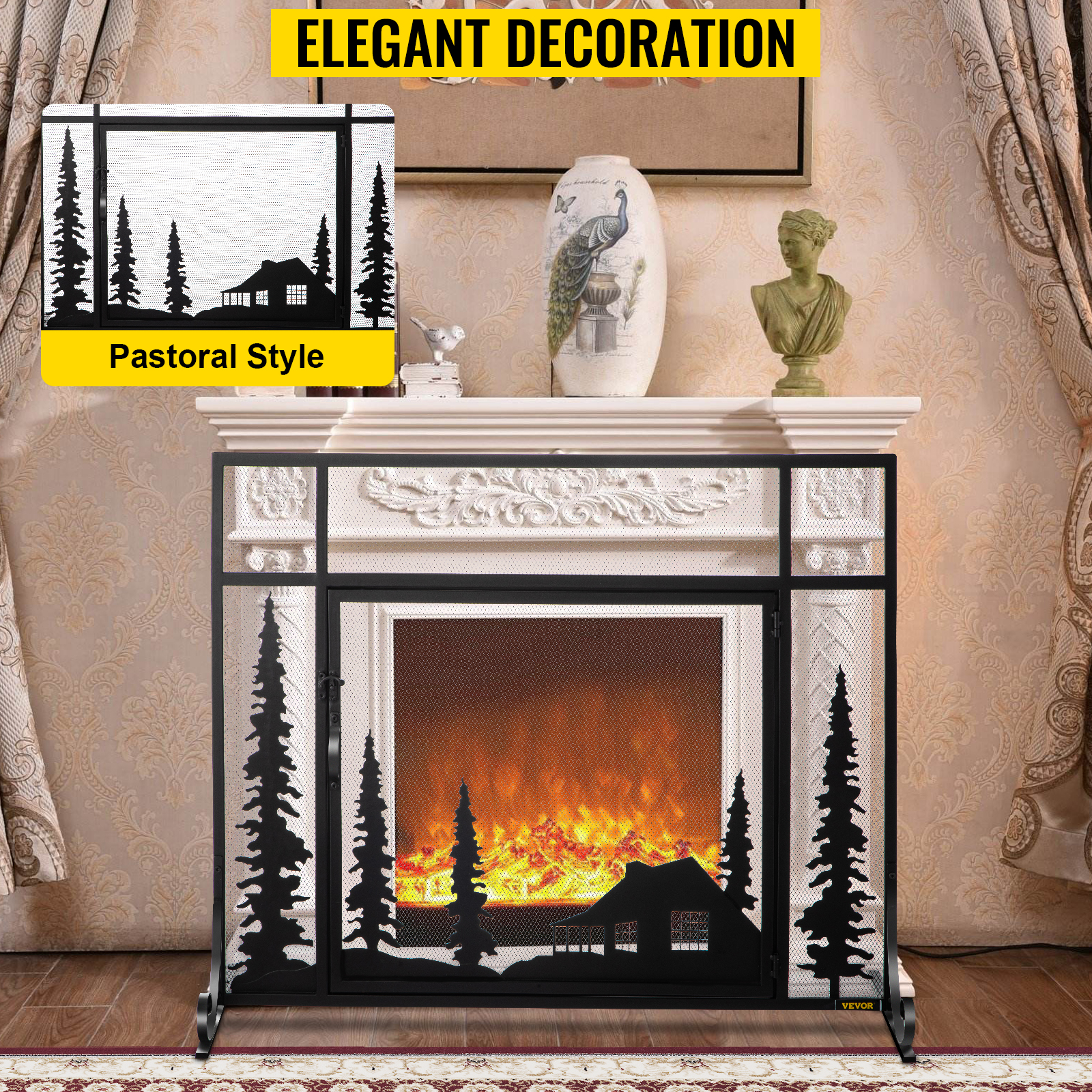 Decorative Pattern
The popular geometric grid design with traditional and symmetrical decorative pastoral pattern will add style to your fireplace. The foot adopts a scroll design to improve the overall aesthetic.
Hassle-free to Install
You can assemble the fireplace guard in just a few steps. Follow the step-by-step instructions and then begin putting the accessories to use.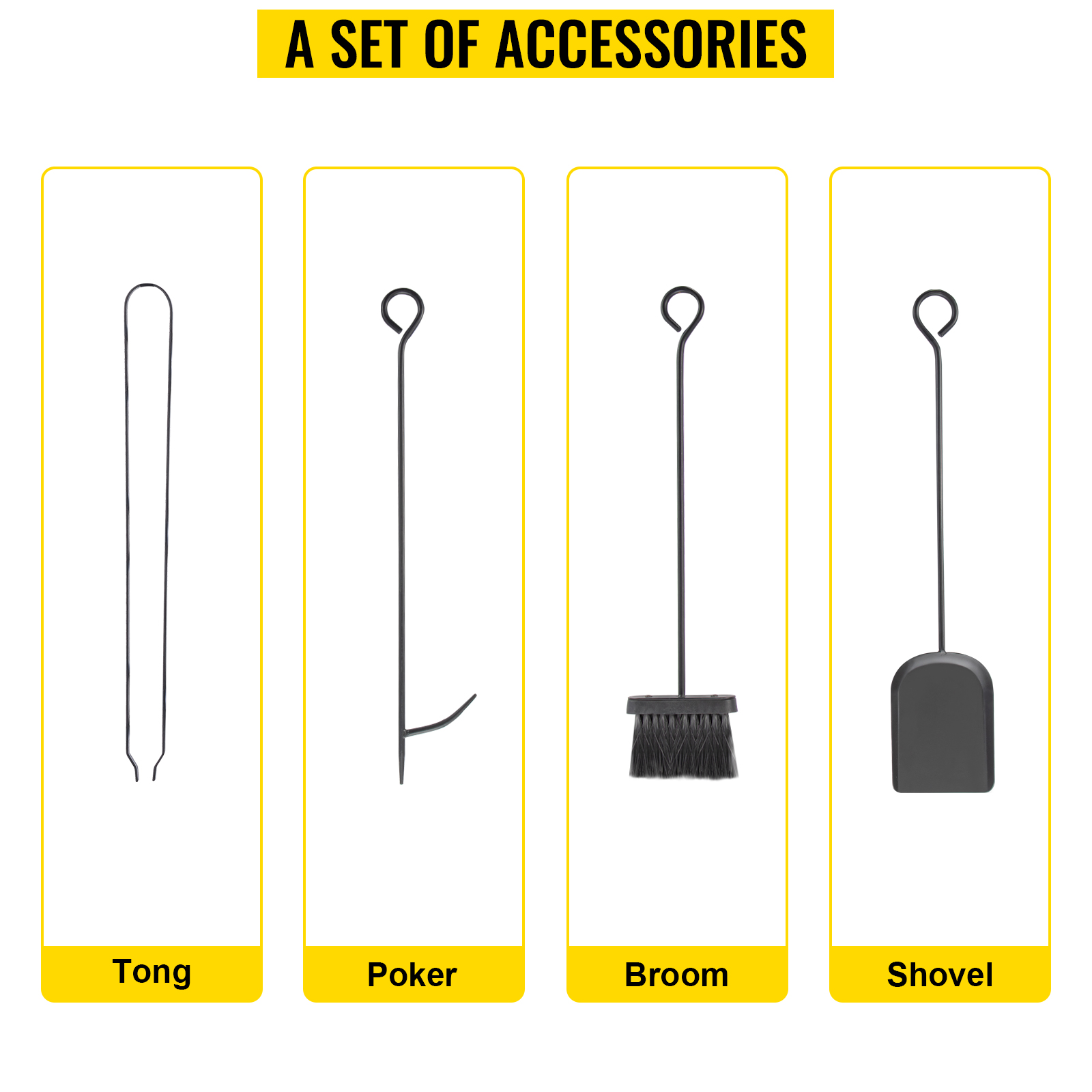 Auxiliary Tools for You
Tongs, poker, broom, and shovel can effectively help you solve problems such as the quantity of wood, the size of the fire, and carbon ash cleaning to ensure convenient use.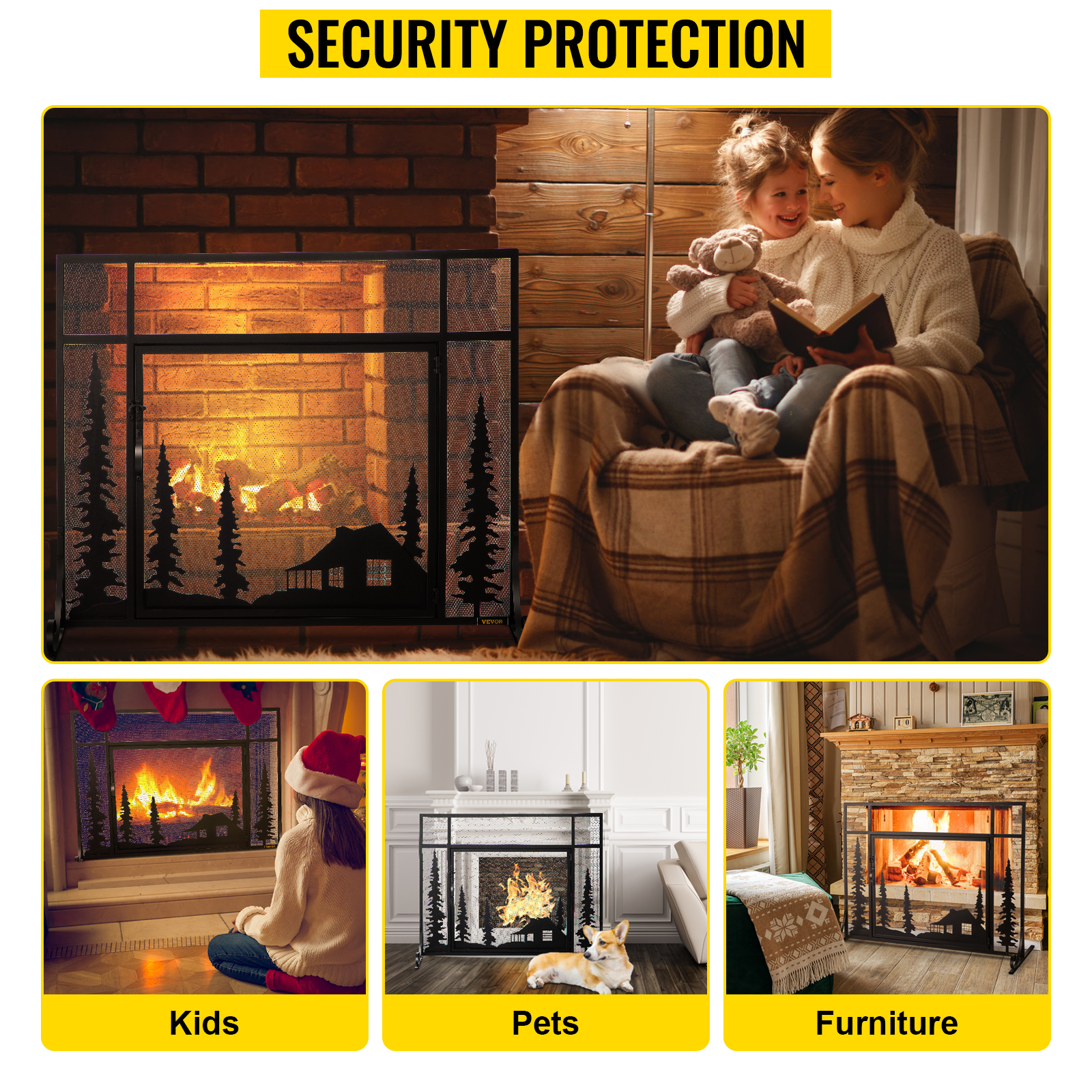 Secure & Decorative
A simple screen with a grid design can keep an open fire and embers from flying in the room to provide a more secure and warmer environment for your family, pets, carpets, and floors.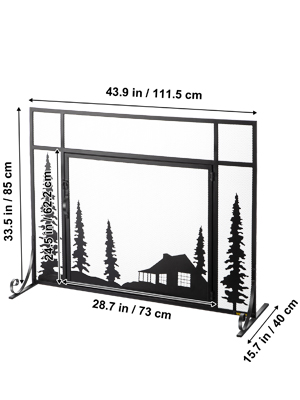 Specifications
Model: VV-BLPF-44INTY
Material: Iron & Metal
Thickness of Plate: 0.15 in / 4 mm
Finish: Painted
Product Dimension (W x H): 43.9 x 15.7 x 33.5 / 111.5 x 40 x 85 cm
Product Weight: 13.8 lbs / 6.25 kg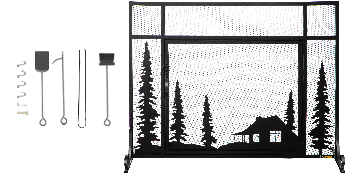 Package Content
1 x Fireplace Screen
2 x Support
1 x Tongs
1 x Poker
1 x Broom
1 x Shovel
2 x Wrench
Features & Details
Excellent Fireplace Screen: Our durable, rust-proof fireplace guard is made of heavy iron with a painted finish. Welded hinge and firm support are combined to maintain stability. It's ideal for use in an indoor fire pit, porch, and the fireplace to bring you a warm and cozy atmosphere.
Large & Security Guard: You can use this 43.9 x 15.7 x 33.5-in fireplace screen to stay warm safely. Due to the large screen, it can effectively prevent any flying sparks or embers, so you can enjoy the warm flame without worrying about hurting the floor, pets, or children.
Easy to Set-up & Use: Assembly is simple, just connect the 2 solid supports of the fireplace screen with our wrenches and the instruction. When in use, the single door design allows you to add wood conveniently without removing the screen. The magnetic latch makes it easy to open and close the screen.
Complete Accessories: We provide additional accessories to improve the user's experience. Our tongs make it easy to add or reduce wood, our poker can help move the wood and adjust the fire, the broom can clean charcoal ash, and the shovel can scoop up charcoal ash for maintaining a clean fireplace.
A Decoration for Home: The beautiful pastoral pattern design makes the screen appear elegant to the eye. The black paint finish nicely complements any interior decoration style. You can spend a warm and wonderful winter with friends and family when Christmas comes.
---
Give to Dallas Habitat!
Every Donation Furthers Our Mission.
Donate!