---
Key Features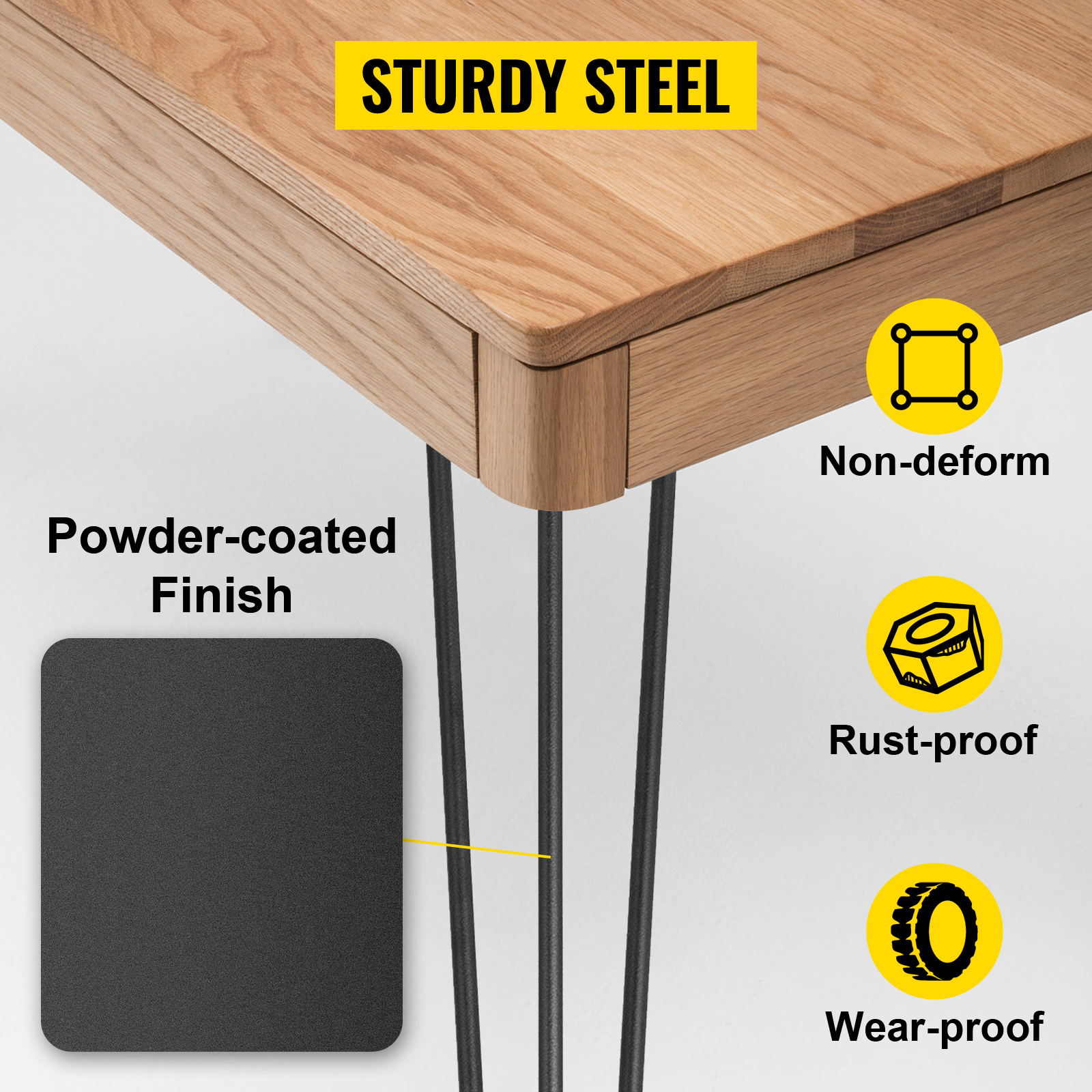 Non-rust Steel
The DIY table legs are made from upgrade carbon steel, featuring a high performance at rust-proof, wear-proof, and corrosion-proof for long-term service. Thanks to our powder-coated finish technology, its surface remains smooth to touch.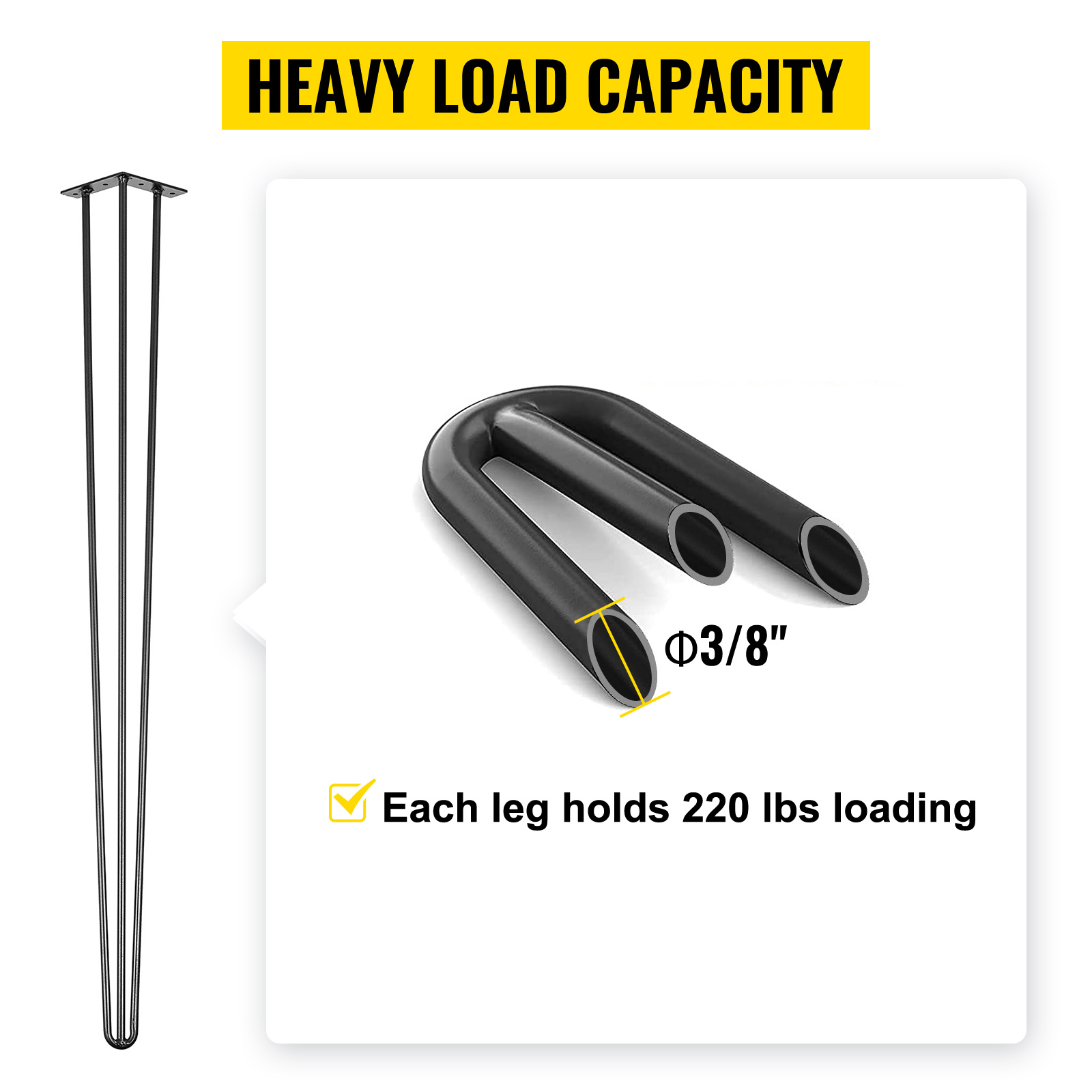 Heavy Stability Legs
Our black hairpin table legs are made of 3/8" thickened 100% steel. Each leg has a holding capacity of 220 lbs, 4 sets support a max. 880 lbs.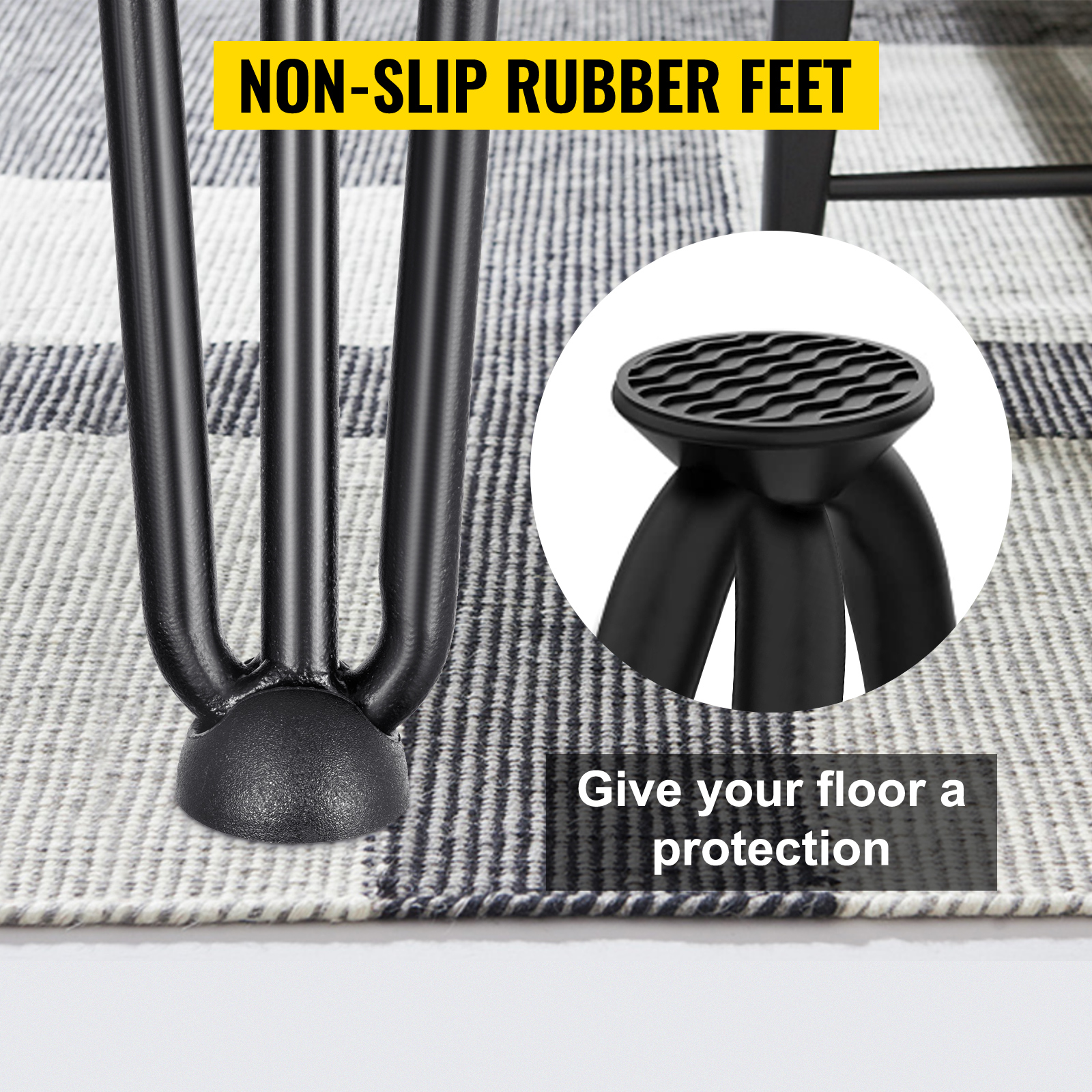 Rubber Floor Protector
The steel leg kit includes four soft rubber feet to protect the floor. They can make the table more stable and reduce scratches on the floor surface.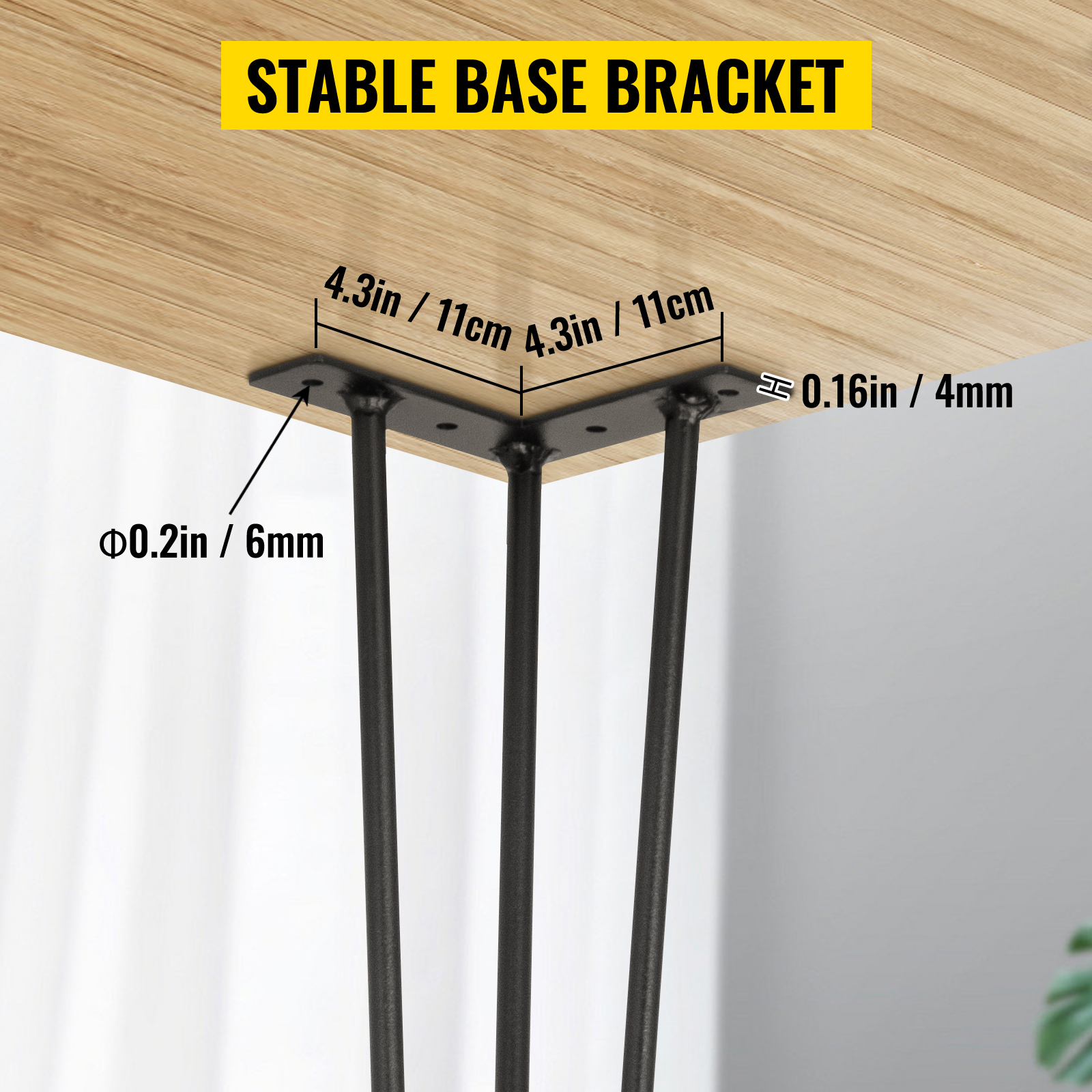 Thickened Base Bracket
The mounting plate of each bench leg measures 4.3" x 4.3" (L x W). It comes with four pre-drilled holes (φ6 mm) for easy and quick installation.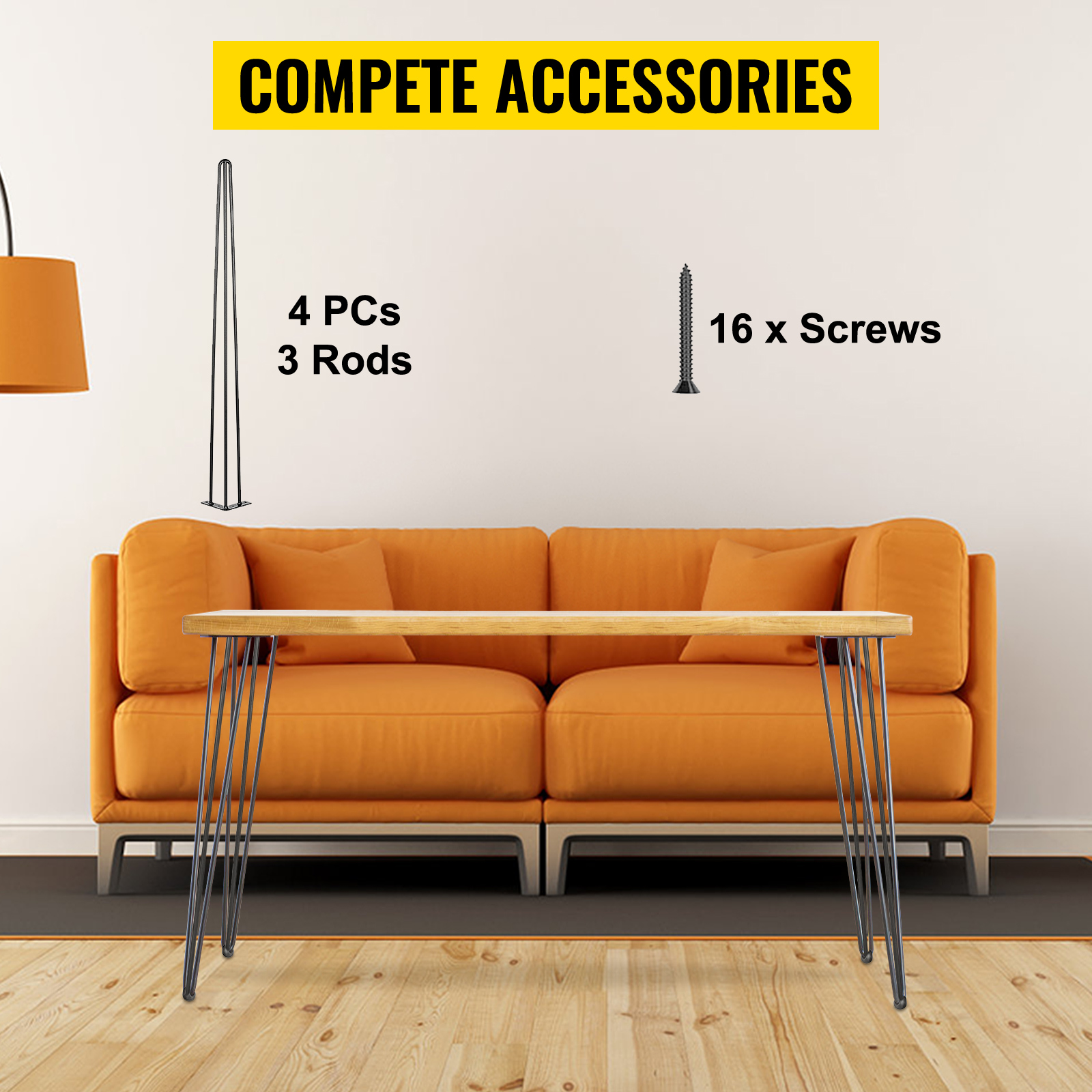 Full Set of Accessories
It comes with 4 hairpin table legs, 4 rubber floor feet, and 16 screws, so you can start setting up your furniture anywhere.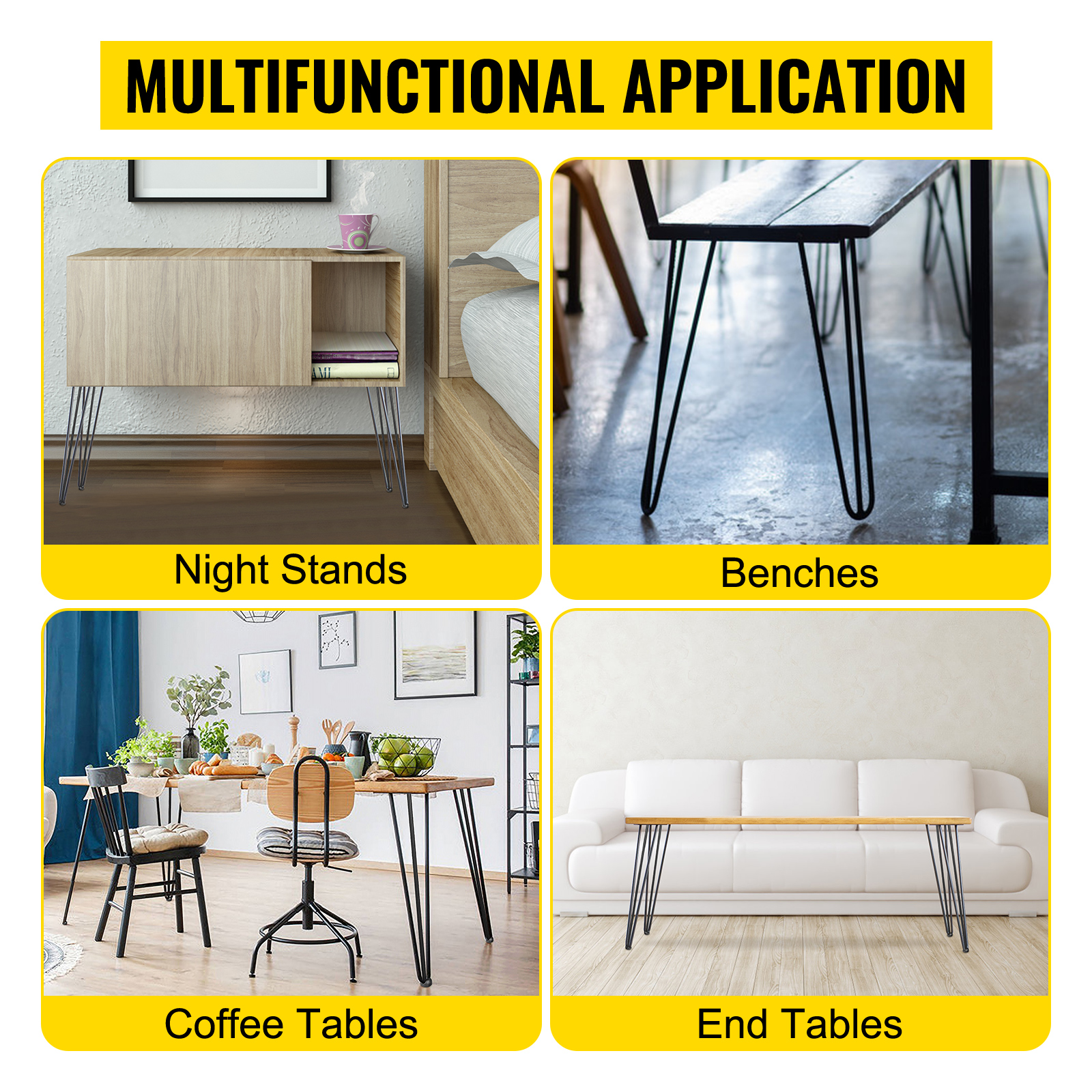 Wide Application
You can use these hairpin legs to create unique side tables, end tables, coffee tables, sofa tables, wood benches, high chairs, bar tables, etc.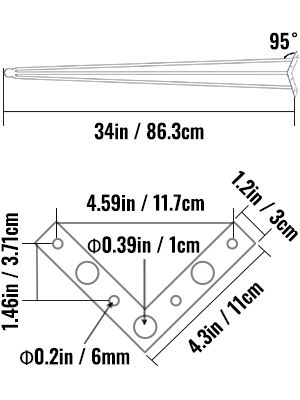 16/18/20/22/24/26/28/30/34/36/40" Hairpin Table Legs
Amount: 4 PCs

Table Leg Height: 16/18/20/22/24/26/28/30/34/36/40"(40.6/45.7/50.8/55.9/61/66/71.1/76.2/86.3/91.5/101.6 cm)

Material: Carbon Steel

Mounting Plate Thickness: 0.16"/ 4 mm

Tube Diameter: 0.39" / 10 mm

Load Capacity(Each): 220 lbs / 100 kg

Mounting Plate: 4.3x4.3" / 11x11 cm (L x W)

Product Weight(Each): 10.88/0.97/1.05/1.1/1.2/1.28/1.34/1.43/1.58/1.65/1.8 lbs (0.4/0.44/0.48/0.51/0.55/0.58/0.61/0.65/0.72/0.75/0.82 kg)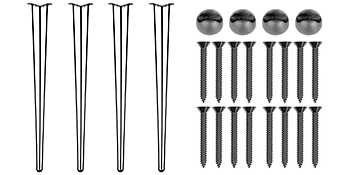 Package Content
4 x Hairpin Table Legs

4 x Rubber Floor Feet

1 x Screw Kit
Features & Details
Durable Steel in Powder Coating: Our hairpin desk legs adopt three 3/8'' steel rods, making them more stable and stronger than 2 rods. Each leg can support max. 220 lbs/ 100 kg load without deformation (4 set legs up to 880 lbs loading). Finished with powder coating technology, the legs are glossy, rust-proof, and smooth to the touch. Stability and a clean appearance to stand up to anything.

Additional Floor Protector: Comes with 4 hairpin leg feet protectors to keep your floors away from damage and allows you to silently move the table. It also works as an added stabilizer for wobbly chairs or tables. With our hairpin legs, you will have no worries about the table shaking, and your precious accessories will never fall off the table.

DIY Furniture Project: Height: 34"/ 86.3 cm. 4 sets of classic mid-century modern style legs are designed specifically to provide great stability for furniture hardware projects. Perfect choice for your desks, benches, and any piece of furniture in between! You can add a new level of decor to your space. Create an industrial yet modern space. Your creativity is endless.

Thicker Mount Bracket: Mounting plate size is 4.3"/ 11 cm in length, 1.2"/ 3 cm in width, and 0.16"/ 4 mm in thickness. The legs with the tabletop are pre-drilled with four φ6 mm holes for easy assembly. You can use an automatic screwdriver (not included) to quickly fix the screws & legs into the wooden plate.

Designed for Versatility: You can get 4 PCs hairpin table legs, 4 x rubber floor feet, and 16 x screws. Our desk leg kits are extraordinarily versatile and can support a variety of styles such as rustic, modern, industrial, and more! Home, offices, bars, and retail displays can benefit. Make your decoration unique and distinctive.
---
Give to Dallas Habitat!
Every Donation Furthers Our Mission.
Donate!